Send Inquiry
Double Cone Blender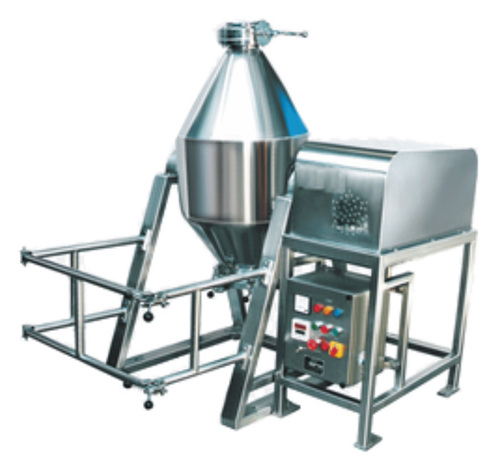 Double Cone Blender
Product Code : 35
Brand Name : Valfit Engineers
The Double Cone Blender is an efficient and versatile machine for mixing dry powder and granules homogeneously. All the contact parts are made of stainless steel. The effective volume for optimum homogeneity is between 35-70% of gross volume. The SLANT double cone design eliminates dead sports, which occasionally occur in conventional double cone mixer. It can be used for pharmaceutical, food, chemical and cosmetic products etc.
APPLICATIONS
Dry powder mixing for tablets and capsule formulations
Dry granules sub lots mixing to increase the batch size at bulk lubrication stage of tablet granules.
FEATURES
The conical shape at both ends enable uniform mixing and easy discharge
The cone is statically balanced to avoid any excessive load on the gear box and motor
While the powder can be loaded into the cone through a wider opening, it can be discharged through a butterfly or slide valve
Depending upon the product, paddle-type baffles can be provided on the shaft for better mixing inside the cone
The contact parts are made of either SS 316
Fame proof motor can be supplied as optional
Capacity available 20lts. 3000 Liters
The working capacity can be exchanged to 80% of gross capacity by validated study depending on the product
'Slant' designed (Off centre Double Cone Blender is also available.)